Killossery Lodge Stud – breeding horses with a future
Breeding a World Champion is a dream that every horse breeder longs over, but that only a handful can fulfil. Yet this is exactly what Laura Glynn has done.
From her family base of Killossery Lodge Stud in North County Dublin – which is also a busy livery and competition yard and venue, Laura and her family have not only bred the current 6yo World Showjumping Champion, but have also bred several grand prix showjumpers and 3* international event horses, putting Killossery Lodge firmly amongst the elite of Irish horse breeding operations.
We spoke to Laura about her breeding operation and to pick her brains on how to be successful when breeding horses (or as successful as possible!).
How many foals on average do you breed per year?
Generally about 5 or 6, but some years have been better than others!
What do you look for in a broodmare?
Performance first and foremost. Temperament, conformation and soundness are also very important, but if the mare has not performed herself, she must at least come from a performing family – and to a relatively high level. All our broodmares have performed to quite a high level in Showjumping or Eventing.
For example, Killossery Kruisette reached a very high level in Showjumping. Killossery Karina competed to 3*level in eventing, including representing Ireland at the junior European Championships in Pardubice in 2003. She was the dam of Killossery Karisma 2008 competing at 3 star eventing. Killossery Wren's Nest was 8th at the Lions D'Angers world breeding championships and was 3rd at Punchestown CCI**YR. She was a full sister to Killossery Robins Nest who competed at Lions D'Angers as 6 year old.
When did you start your breeding operation?
Oh god… the year dot…!
The first broodmare we had was Clifton Lass and we bought her about 45 years ago. She was by Choo Chin Chow and she was Kruisette's grandmother. Kruisette's mother was called Jeannie and was by Radical who was a TB stallion.
The rest of our mares are a mixture of mares we've bred and mares we bought over the years.
Tell us a bit about Killossery Kruisette, dam of the 2016 Lanakan 6yo World Breeders Champion
Killossery Kruisette (pictured below) was an exceptional mare. She jumped to Grand Prix herself and we've had 10 foals out of her now, all by embryo transfer. She's 22 now and we only started breeding from her when she was 15, so I didn't want to risk her carrying foals herself.
Unfortunately last year we did not have a good year and we didn't get anything from her. It's a lot of work teasing and travelling the mares up and down to Larry Dunne who does all my embryo work and in hindsight we gave up too early, given the success of Killossery Kaiden in Lanakan! But I'm going to try again with her this year. I work closely with my vets and we ran bloods at the back end of the year to make sure her hormones were right and they were, so fingers crossed we have better luck this year! As well as the 10 foals she's bred, I also have a couple of embryos from her in the freezer, so we'll start to do something with them soon enough.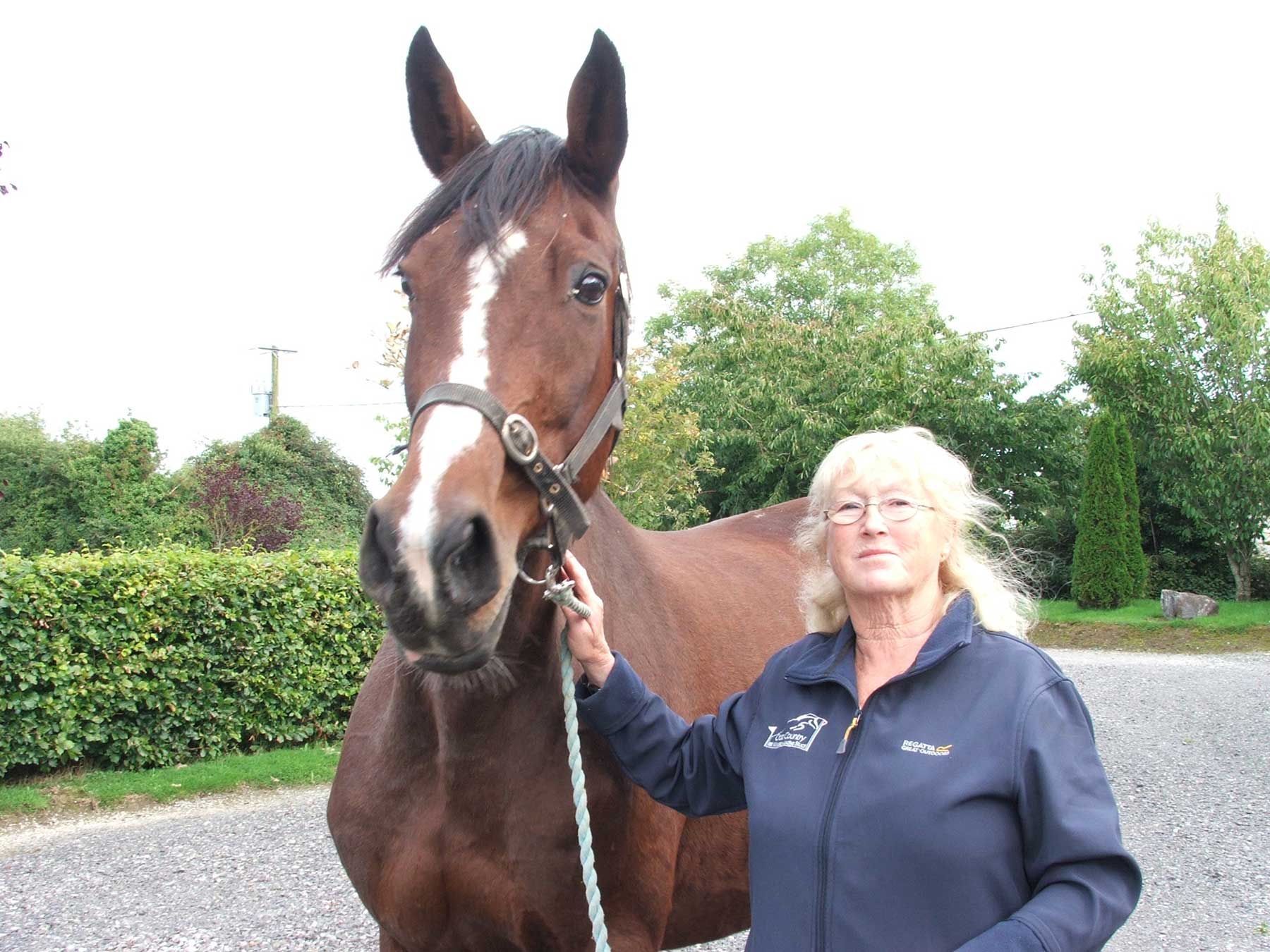 Are you tempted to sell any of the embryos?
After Lanakan I had everyone on the phone! We had people on the phone looking to buy the mare and yet more people looking to buy embryos. And the hilarious thing is that 2 years previous when I had no transport and no time I advertised to lease Kruisette for the season if someone wanted to take her for breeding as I couldn't get her to Larry's and back, with the offer that they could take whatever number of embryos they got from her… and no one took me up on the offer! It wasn't like I was looking for mega bucks either… I had a few phone calls and they asked how much and I said come back to me with an offer and said I wouldn't necessarily take the highest offer – I was looking at who it was, what their plan was, how they were going to look after her and the assurance that they would still use Larry for the embryo work, but I had no one take me up on it.
If performance is more important, how far would you go to forgive conformation flaws in a mare?
The thing about it is, if they're going to be jumpers, they need a really good hind leg. I don't care if they're not dead straight movers, if they wind a little bit. Kruisette's family always wind a bit and that doesn't bother me. Things like wind are more important – I'd prefer that they're sound of their wind and really they need a good, strong set of limbs. So conformation needs to be pretty good, but it doesn't need to be perfect.
Does the mare have to have achieved or could it have recognised potential?
Yes, would be happy to breed from a mare that looked like she was the real thing and something happened and she got injured. With most of my broodmares that's actually what happened, they went to a level and then they got injured, that's why they're broodmares!
How important is temperament?
It's very important. You have to be able to ride them and you can't ride them if they're crazy! I look at the mares temperament and then I'd look at the stallion. Kruisette was always quite hot to ride – she's a Cruising mare and they're always a little bit hot. So I therefore to a certain extent always look at the stallion's temperament and try not to go for something that was a bloody lunatic!
How go about choosing the best stallion for the mare?
I have to look at a lot of factors and having bred from the mares and seen what they've produced I then have a much better idea. Sometimes you cover a mare with a stallion and until they actually start producing stock you actually don't really know what stallion suits them. Kruisette needs a big stallion as she does not breed big, so she needs a big, scopey stallion. It's been the same with some of my other mares and it's only something you learn having bred from them over the years!
Sometimes I pick the stallion, I think it's perfect and then out pops this tiny little thing that looks like the size of the doll! This has happened on a few occasions the stallion is 17hh and the mare is 16.1hh and the foal turns out to be knee high to a grasshopper and more often than not they don't grow.
Do you prefer Irish or continental breeding? Does it depend on the mare or how do you decide?
Yes, it really depends on the mare and on what you're trying to breed. If I'm trying to breed jumpers I have to go continental. If I'm trying to breed eventers I am trying to go Irish. When trying to breed eventers I'm ideally looking for a big scopey TB stallion which is nearly impossible to find. I want a big TB stallion with a great big front on it and that is a good mover which is very, very difficult to find.
You breed regularly by embryo transfer. Why is that?
For a couple of reasons. We started a few years ago when the mares were still competing and so we were taking embryos. With Kruisette – all she ever does is embryos because by the time we got her back to breed she was quite old herself and I didn't want to put her in foal and run the risk of losing her. At least this way there's no risk to her as such.
Additionally, this way I can get more than one foal out of her. There was one year that I got 5 embryos out of her and another year when I got 3 embryos from one cover! Unfortunately they didn't all survive, but I have actually got 2 and they have survived.
Would you recommend embryo transfer to just professional breeders or could it be an option for the amateur breeder?
Embryo Transfer is expensive and so unless you have a very good mare it doesn't pay. If you have a good mare and you want to keep competing and yet you want to have a foal, then it's definitely an option. We did it with the eventing mares while they were competing – their first offspring were all embryo transfer. For example I took an embryo out of Killossery Robin's Nest before I sold her and the resulting foal – Crunchie went on to win the 1* in Ballindenisk. He's now eventing in the US.
Do you have any exciting new arrivals anticipated this year?
Unfortunately not as we got very few in foal last year. It's just the way it went, it wasn't by choice! Some mares were late foaling and so I didn't cover them again. And as we got nothing out of Kruisette last year we didn't put her in foal again. There were some in the freezer and I put one of them into a mare, but it didn't hold. So we only have 3 in foal this year.
What advice would you give to someone looking to start breeding?
Start with a good mare. Don't start with a mare that's no good for anything and decide to put her in foal just for sentimental reasons. Unfortunately some people don't even have sentimental reasons! They just have a mare there and think she's a witchy bitchy chestnut yoke and can barely get in the stable with her and can't ride her, so think 'sure we'll put her in foal'… that's crazy.
You want to try to be breeding something good. And firstly you want to decide what you want to breed. Are you breeding to have something to ride for yourself or are you breeding to try to breed a top class showjumper? If you want to breed a top class showjumper you need a top class mare and go to a top class stallion. There's no point in saying that I've a mare there and there's a stallion down the road and sure I'll cover her with that and hopefully we'll get a top class showjumper…fairy tales like that don't happen!
It's too expensive a game and the chances are slim to none. So you have to decide what you want to breed, get a good mare, analyse her strengths and weaknesses and then choose a good stallion that will complement her. After that it's largely in the lap of the gods!
Share this article with fellow horse lovers by using the share buttons below.