IRISH SUCCESS AT PONY EUROPEAN CHAMPIONSHIPS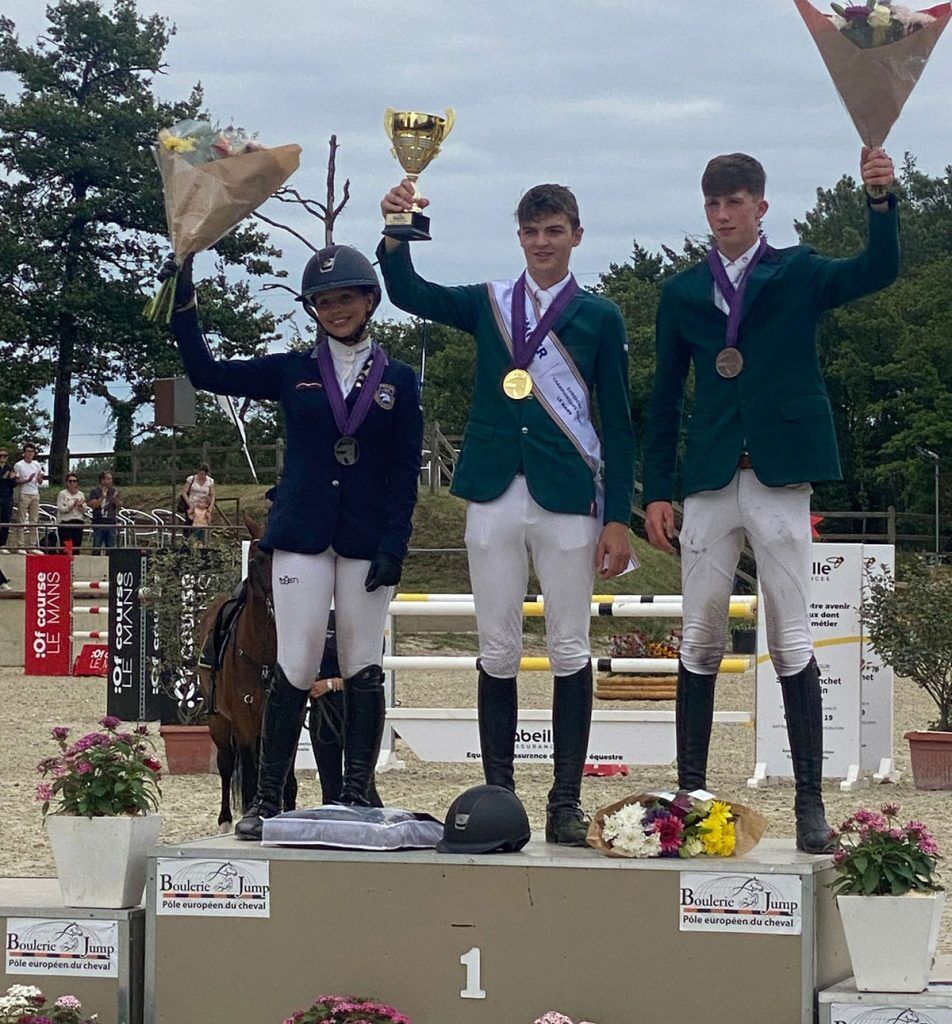 Gold for Reape and bronze for Dore at European Championships
GAIN Equine Nutrition Irish Pony Show Jumping and Eventing athletes shine on final day in Le Mans, France
Sligo's Paddy Reape rounded off what has been an exceptional week for Irish athletes in Le Mans, France at the FEI Pony European Championships with a stunning individual gold medal win in the individual show jumping final.
Reape was faultless throughout the competition on Fernando and held his nerve to jump clear throughout the final day of action to take top spot on the podium.
On another huge day for Irish athletes, Limerick's Kian Dore finished third on Sparkling Lackamore Joey to secure a bronze medal – cementing Ireland's position as number one in Europe for pony combinations.
Following their team gold medal-winning performance on Friday, the Irish riders lined out for the individual final this afternoon.
Kilkenny's Abbie Oakey added four faults to her total for the week, leaving her on a total of 16, in 14th place. A fence down in the first round of the final left fellow Kilkenny native Emily Moloney on eight faults. She finished in a share of fifth place, alongside Westmeath's James Derwin and Rincoola Babog (ISH).
Derwin was unlucky to end his streak of clear rounds throughout the championships, picking up eight faults in his opening round in the final. He followed up with strong second round. jumping clear to stay on eight faults, level with Moloney.
Dore also jumped clear with Sparkling Lackaghmore Joey, leaving them on a score of four faults and in fourth place individually.
Reape was the only Irish rider to maintain his faultless record, riding Fernado, and he added yet another clear to his record in the second round of the final to secure gold.
Dore needed to jump off for the podium places but once again he was calm under pressure and came home in third place, adding to his team gold earlier in the competition. Sweden's Ellen Hammarstrom was second with Ocean Des As.
Speaking about the achievement Reape said: "I'm delighted to win today. The courses were very technical and big. It suited my pony Fernando, he's got a big jump and he's scopey so I was happy. My goal is for the rest of the year is hopefully go to the Nations Cup final and do well there and I'd also like to come back and do the same next year and the Juniors.
Dore added: "The course was technical and big, in the first round just tipped off the backbar on the second last fence in the first round, I was clear in the second round, and I had an unlucky fence down in the jump-off which put me into bronze. My plans out for the rest of the year the Nations Cup final and hopefully come here next year in juniors and do two better!"
Earlier, the GAIN Equine Nutrition Irish Pony Eventing Team claimed the team bronze medal at the FEI European Championships for Ponies in Le Mans, France.
The team, under the guidance of Jane Kinsella, got the competition off to an excellent start leading the team competition after the dressage phase on a score of 88.3. However, the pressure was on with France on 90.7 and Germany on 93.3.
Saturday's cross-country phase proved incredibly influential with several of the top combinations picking up faults. Unfortunately, one of these combinations was Kildare's Ben Connors and Cornafest Fred (CP) for Ireland, a team and individual medal winner the last two years. An early 20 penalties cost them a place at the top of the individual leaderboard.
Making her championship debut, Meath's Carla Williamson went into the final show jumping phase in pole position following an excellent clear cross-country round. Williamson was one of only seven riders to complete the cross country inside the optimum time.
An unlucky pole down in the final phase and time penalties meant Williamson finished fourth individually. Germany claimed team gold and individual gold, silver and bronze. France finished second in the team event.
Also making their championships debuts were Wicklow's Ciara O'Connor and Agharanny Minstrel (CP), Down's Molly O'Connor and Coolnaleen Rebel (ISH)[TIH], and Wexford's Hannah Willis and Kilnaspic Lily (ISH), who finished in 12th, 15th and 16th respectively.
Kinsella said: "I'm absolutely delighted and very proud that the Irish Pony Eventing team has won bronze at this year's European Championships. I fully expected that the competition in Le Mans would be strong and technically challenging and the riders stepped up, pushed each other forward, supported each other and worked incredibly well as a team. It was a fantastic competition from day one, really exciting, and they delivered a great result.
"I would like to express my gratitude to my fantastic coaching team, Caroline Powell (Cross Country) and Heather Coyle (Show Jumping). My vet, Tim O'Hagan and the grooms Rebekah McNally and Jenny McKibbin. I would also like to thank the parents and support teams. Results like these don't happen without their support, encouragement and guidance.
"Finally, I would like to thank Horse Sport Ireland and Eventing Ireland and our wonderful sponsors Gain Equine Nutrition, and suppliers Bucas, TRM Nutrition, Uvex, Dubarry of Ireland and Berney Bros Saddlery."
Speaking about the success of both the Pony Show Jumping and Eventing athletes, Philip Gilligan, GAIN Equine Nutrition, Irish Country Manager, said: "It is fantastic for the Pony Eventing team to be coming home with a team bronze medal, this comes after the Show Jumping team winning team gold on Friday and now Paddy Reape and Kian Dore have won individual gold and bronze in the individual show jumping final at the FEI European Pony Championships at Le Mans.
"They are a very talented group of riders and we are delighted with the result. On behalf of everyone at GAIN, I would like to congratulate Jane Kinsella and Gary Marshall and all of the Pony Eventing and Show Jumping teams on this success."
Horse Sport Ireland CEO, Denis Duggan, said: "Huge congratulations to both Gary Marshall and Jane Kinsella and their respective teams on a fantastic achievement. It was a brilliant week for Irish athletes competing at the Championships, and to come home with two individual medals as well team gold and bronze is a great achievement.
"To reach the podium at a major championship is a testament to the commitment of these athletes. I must also recognise the backing they are given from their families, grooms, trainers, our vet Tim O'Hagan from EquiVet, and everyone who plays a part behind the scenes.
"We are very proud of them and look forward to celebrating their medal win very soon."
The HSI Irish Pony Show Jumping and Eventing teams are kindly supported by GAIN Equine Nutrition, Dubarry of Ireland, Berney Brothers Saddlery, TRM, Bucas Ireland, UVEX, Equestrian and Eventing Ireland.
Photo Caption:
Ireland's Paddy Reape and Kian Dore on the podium at the FEI European Pony Show Jumping Championships
Breeding:
Rincoola Babog (ISH) – 2011 stallion by Luidam (KWPN) out of Rincoola Abu (ISH) by Cruising [TIH](ISH). Breeder: Harold McGahern. Owner: Jim Derwin. Rider: James Derwin (IRL)
Sparkling Lackaghmore Joey (UNK) – 2013 gelding. Owner: Edel Dore. Rider: Kian Dore (IRL)
Fernando (UNK) – 2010 gelding by Contendro (HOLST) out of Lena. Breeder: Sean Judge. Owner: Jonathan Reape. Rider: Paddy Reape (IRL)
Cornafest Fred (CP) – 2013 gelding by Gwennic De Goariva (CP) out of Corrnafest Nora (CP). Breeder: Thomas Grimes. Owner: Kieran Connors and Michelle Nelson. Rider: Ben Connors (IRL).
Agharanny Minstrel (CP) – 2007 stallion by Castleside J.J (CP) out of Silver Mint (CP). Breeder: Sean Hynes. Owner: Noreen O'Connor and Sharon O'Connor. Rider: Ciara O'Connor (IRL).
Coolnaleen Rebel (ISH)[TIH] – 2010 gelding by Rebel Mountain (ID) out of Crested Ten Lady (IRE)(TB). Breeder: Noeleen Redmond. Owner: Paul O'Connor. Rider: Molly O'Connor (IRL).
Galco (UNK) – 2014 gelding. Owner: Janet Williamson. Rider: Carla Williamson (IRL)
Kilnaspic Lily (ISH) – 2013 mare by Woodfield Sammy (CP) out of Our Que (UNK). Breeder: Anneline O'Malley Neary. Owner: Laura Bowe. Rider: Hannah Willis (IRL)