SHOW JUMPING: Shane Sweetnam Wins 1.45m Ranking Class in Wellington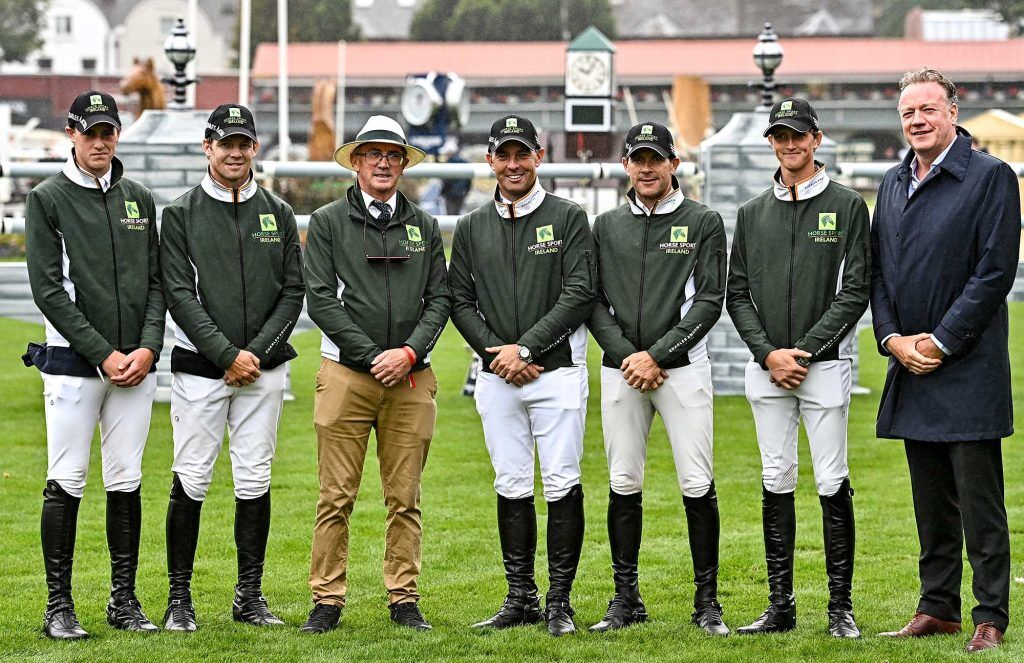 Photo Caption: Shane Sweetnam, second from left, pictured with the High Performance team manager Michael Blake, third from left, with Aga Khan team members in the RDS Dublin Horse in 2022. Photo by Sam Barnes/Sportsfile
Cork native Shane Sweetnam continued what has already been an incredible week in the CSI5* show in Wellington, Florida
Shane Sweetnam landed his first international victory of 2023 this evening, Friday 10th of March. This is the third day in a row that an Irish rider has won in the CSI5* show in the Florida venue, following consecutive victories from Bertram Allen on Wednesday and Thursday. Sweetnam was part of the 2022 Aga Khan winning team with the Irish Sport Horse James Kann Cruz.
With over 60 entries this evening's 1.45m ranking class was certainly competitive. Sweetnam had two mounts, Alejandro and Ina, and was competing alongside fellow Irish riders Jordan Coyle and Darragh Kenny. It was a clear round on board the 14-year-old gelding Alejandro that he set the time to beat of 57.2 seconds.
Over the course of the evening many tried to knock Sweetnam off the top spot but failed to do. The home nation filled second and third place with Kristen Vanderveen riding Bull Run's Faustino De Tili in second in a time of 58.55 seconds and Tanner Korotkin and Quinn 33 finishing third.
Alejandro is owned by Elan Farm and has recorded numerous victories with Sweetnam, including concluding their 2022 season with a win in the CSI5* in Geneva, Switzerland.
Speaking about this evening's win and the success of Irish riders this week Horse Sport Ireland Show Jumping High Performance Manager Michael Blake said: "Alejandro and Shane are a very experienced partnership. They were early to go and really put the rest of the class under pressure. So far it's been a great week with two wins for Bertram and Shane's win today."
Adding to the Irish success, Meath native Nicky Galligan finished third in the 1.50m ranking class in the CSI3* in Thermal, USA riding his own Javas Miss Jordan, a 14-year-old Irish Sport Horse mare.
The Irish Show Jumping team is sponsored by The Underwriting Exchange
Charles Ancona – Official athlete clothing supplier to HSI's Senior Olympic programmes
BREEDING
Javas Miss Jordan (ISH) – 2009 mare by Luidam (KWPN) out of Ally Angel (ISH) by OBOS Quality 004 (OLD). Breeder: Judy Murphy, Co. Louth. Owner and Rider: Nicky Galligan (IRL).