ONE TO WACH' – Tom shines on senior Nations Cup debut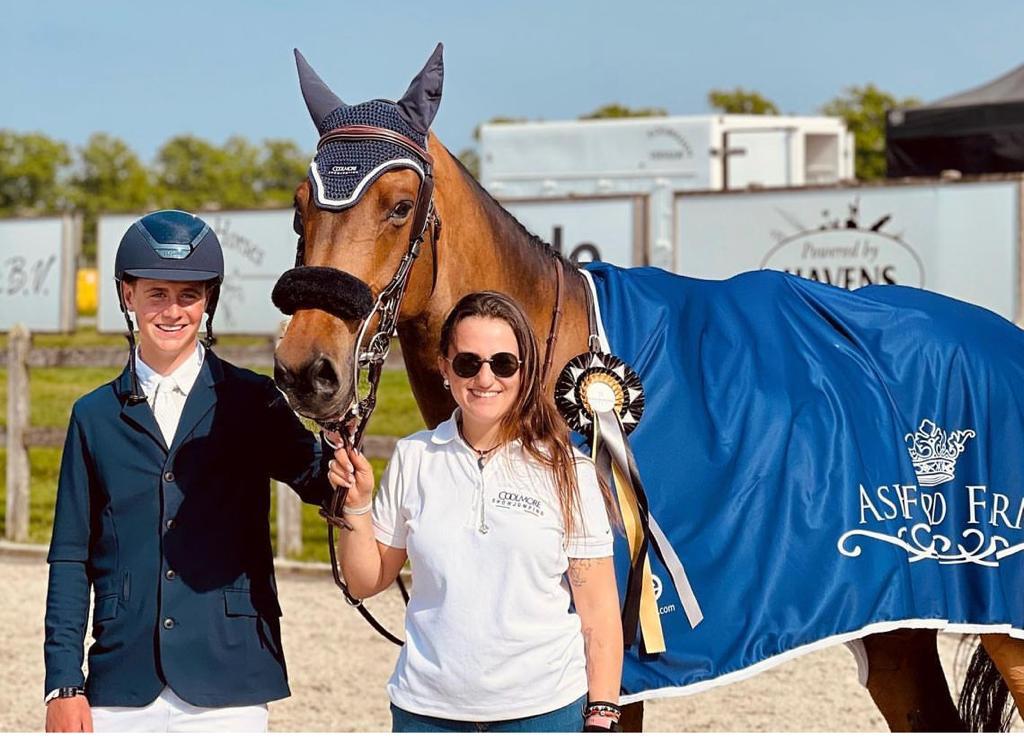 18-year-old Wachman impressive under pressure in The Netherlands
It was a weekend to remember for Tipperary teenager Tom Wachman in The Netherlands and heralded the arrival of a new star to the Irish senior show jumping ranks.
As younger brother to Aga Khan-winning rider Max Wachman, Tom has pedigree having previously represented his country at Pony and Junior level and made his senior Nations Cup debut in Peelbergen last Friday.
Ireland was competing for one of five qualifying places to the semi-finals of the EEF Nations Cup, which ordinarily would be seen as well within their grasp at the CSIO3* level.
Nonetheless, team boss Michael Blake was taking no chances, sending a powerful team to the qualifier. He wasn't the only manager with the same idea, however, with a host of nations lining up with close to their strongest teams.
Cian O'Connor, Max Wachman and Alexander Butler joined 18-year-old Tom in the Charles Ancona green jacket and, despite his tender years, the UCD Ad Astra student led from the front.
A desperately unlucky rolled pole at the last meant four faults for Tom and his mount Rock Of Cashel, owned by Susan Magnier, and with Ireland sitting on 12 penalties at the halfway point, a rally was required.
Butler jumped clear but picked up a single time penalty to leave Ireland on 13 and with Max Wachman picking up an unfortunate four faults, Tom was left in the pressure cooker situation of having no room for error with qualification on the line.
He duly delivered, jumping clear within the time and, with O'Connor following suit, Ireland secured the fifth spot and a semi-final place.
"I'm delighted to get my first senior call-up for team Ireland and to help the team qualify for the semi-final," the Tipperary native said.
"It is a great, great pleasure to wear the green jacket – especially at senior level – and my horse Rock of Cashel jumped very well.
"He had an unlucky fence down in the first round – just the last fence – and he was absolutely super when jumping clear the second time around.
"It was great to be on the team with my brother Max and also our trainer Cian O'Connor so that was very special to have the three of us on the team together.
"Thank you very much also to Michael Blake for giving me the opportunity to jump my first senior Nations Cup – it's a special feeling and something I'll always remember."
Not content with an impressive first showing in the Nations Cup and, perhaps with confidence gained from his performance, Tom continued the stellar work with a sixth-place finish in the 1.50m ranking class on Saturday with his mare Cathalina S, owned by Ronnoco Jump, and then a superb second in the 1.55m Grand Prix on Sunday on board Rock Of Cashel.
"I'm really pleased with them both," he added.
Rock Of Cashel jumped very well in the 1.55m Grand Prix, was double clear and finished second just beaten by Gregory Wathelet.
"He's one of the best riders in the world so that was a very nice feeling and rounded off a great weekend. The mare, Cathalina, was double clear in the 1.50m class to finish sixth so I was delighted with her too.
"I must say a big thanks to our whole team in Coolmore and Karlswood, obviously Cian and his head man Ross Mulholland is brilliant organising and training and everything else – he's top class.
"My groom Cristina Garcia and we have another girl, Margot, who's a super groom and flat rider.
"It's a big team we have but everybody works well together so yeah, it was a great weekend all round."
The Irish Show Jumping team is sponsored by The Underwriting Exchange
Charles Ancona – Official athlete clothing supplier to HSI's Senior Olympic programmes
Picture caption: Tom Wachman and Rock Of Cashel with groom Cristina Garcia after their runner-up showing in the 3* 1.55m Grand Prix at Peelbergen