Barry O'Connor on breeding and producing showjumpers in Ireland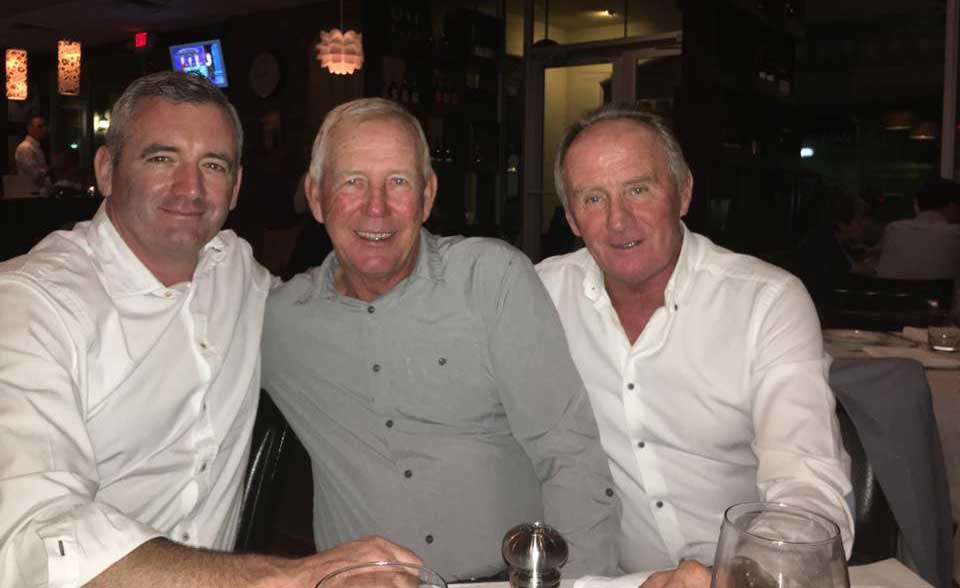 Following on from our previous interview with renowned Showjumping producer Barry O'Connor where we discussed the state of the equestrian industry and what needs to be done to make it stronger, we went on to chat with Barry about his thoughts on breeding horses in Ireland.
Do you think it's economical for small scale breeders to breed horses in Ireland?
Definitely, without a doubt. But they have to move them on. Producing them well as 4 or 5 yo's is very important. The more the breeder can do under saddle the better. If the breeder wants to sell as foals they are going to have black type pedigrees or they won't be able to sell them, or for only a very small return. They do have to be patient.
But if you've a small little holding you have to identify the lines, you have to be scientific about it. You have to think of it as if you're buying a company – that's exactly what you're doing with the mare. So, I would be watching very talented Irish bred eventers and would be researching lines and looking for half and full sisters. Getting to the market to try to get the mares before it's obvious!
And do you think keeping them on a little longer, breaking them, doing a few shows and selling them as 4 or 5 yo's rather than as 3 yo's is a better strategy?
Yes, I think so. If you have a beautiful 3yo and it's 16.3hh, it's a good mover and it's scopey with a good technique, then you'll always sell it at one of the elite sales or Cavan, Millstreet or Goresbridge. There's a hunger for good horses – people are looking for them. However, anything that's a bit plain won't sell and in that case they have to prove themselves.
What do you look for in a good showjumper?
Balance is the first thing because if they have good balance they have good movement. If they have good balance they're easy to ride and if they're easy to ride you can sell them. That's basic.
On top of that I look for scope, carefulness and value for money. For me, there's no point in buying something that's peaked because I have to sell it again.
Attitude is important too – if horses look spooky they generally are, if they look stupid they generally are!
What age do you normally buy your horses at?
I like to buy at 5-6 years old, I don't generally go for the youngsters.
I have bought 6 or 7 foals over the last 2 years, but I work with a guy who is excellent. Most of the time I don't even see them – sometimes he begrudgingly sends me a picture, but I know I can trust him!
I actually own 9 or 10 horses with him now and I have never seen any of them! But we've a great relationship which is built on basic honesty – I want him to make money and he wants me to make money. It's the only way it's going to work. But I prefer to buy them older as they're closer to the market and then there's less risk. As a 5yo there are no excuses. If they're with good people and they can't do their changes behind or if they've a bad mouth, you can see it in a 5yo, but you can't see it in a 3yo. You really want to know what you're at buying at 2 or 3yo in my view.
Where do you buy most of your horses?
Holland. Although I have bought a good few here in the last 2-3 years.
There are a lot of very clever people here though and you don't get much of a chance – they get to the horse faster than you! The network in Ireland is so quick – once a good horse is seen, it's gone! I'm a slower buyer and I like to take my time.
How long do you generally hold onto your horses for?
About 18 months generally. But some 24- 36 months. I try to sell at 7 or 8 yo. That's when you can get the big price and really make your money.
If you were looking to breed, would you rather the mare came from a good line rather than being very good herself, but not necessarily being very well related?
Both if you can. If you're breeding and it was one or the other, I would rather she came from a good line.
But it depends. Sometimes you have horses by stallions that I'm very suspicious of. There are some stallions that I won't even look at the progeny of because I know they're bad movers. So, if you see a horse that's 4yo and it's badly broken and it's not a great mover, but you think maybe good dressage schooling might improve it? It won't if the stallion is a bad mover. The trot can improve with training, but you can't improve the canter and Showjumping is all about the canter.
Then there's the actual model of the horse, if they're short in front it's a disaster when it comes to selling to the amateur market. These horses with little narrow necks on them and the ears disappear below the withers when you're sitting on them… no one wants that. You need a good front and for them to be a bit uphill in front.
There are lots of different things that I would be very wary of. I'd be wary of several stallions on the continent that I've had experience with unsound horses and I just don't look at those stallions anymore. That's the sort of information that passes quietly from breeder to breeder – it's very politically incorrect to start quoting those things!
But for instance, Mr Blue was bad in the wind in Holland and he was a very good horse himself and a very good sire, but the breeders didn't use him until he was proven. They're a little bit more in tune on the continent. We tend to go for what's right and popular today, that's making noise on TV now rather than what might be popular in 3-5 year's time, but it's down the line when we get our money back.
I feel we've got into a very bad culture here in Ireland and it is a problem. When something goes wrong we try to blame an institution and bully them instead of working with them to see how we could all make things better for the industry as a whole. This is really what motivated me to get involved – we needed more funding so I went to the racing sector and asked them how they got it. They told me that they set up an independent group outside the bodies as it would be quicker to respond and can really put the pressure on, so I got together with some other interested parties and did that and now I'm working with the HSI to get more funding for the industry as a whole.
That's the big thing in success – working with people. All the most successful people in our sport work with many other people as a team, as all of the key speakers at the HSI International Marketing Symposium spoke about – Enda Carroll has 6 or 7 people he has half shares with, agents that work with him and farms that feed into him and buy off him. Same with Marion and Jim Bolger. I have lots of people that I do half shares with – partnerships, it's the only way. Very few people are totally independent.
And do you have to have full contracts behind those partnerships?
No, most of them are handshakes – you have to have the confidence with the person you're working with. Say you're standing at a show and you've given 10k for a horse and you've had it 3 months and someone walks up and is giving you 8k then and there. You know you made a mistake and you want to sell the horse. You can't have this big discussion and miss the opportunity. Unless you have trust in the other person and unless you have that bond you're wasting your time. It's all in the partnership.
With owners and investors I like to have an email or a text, so there's something in writing – I'd rather rely on a blunt pencil than a sharp memory! But with the pros I have nothing in writing, because they understand it and they have the information themselves. It's when people don't have the understanding or the information that you run into trouble.
For example, say you gave a good price of 50k for a 6 or 7yo horse and you've had it 2 years. It's won an age class in Dublin and been successful on the national circuit, but it doesn't have enough scope and it has bad rideability, so won't progress. Then you're into possibly having to take a hit, but if your partner in the horse doesn't understand the sport or doesn't trust you, things can get difficult. So you have to build up trust so that everyone is aware of the risks and the person selling has to be in control of the animal.
It's like trading stocks and shares. Why do people buy Apple or Microsoft stocks when they do? It's the same thing – you have to see trends and you have to see values. You have to be aware of the value of the animal.
However, the horse is worth nothing unless the customer is prepared to pay for it. They're a luxury item. They don't plough fields, they don't give milk, we don't eat them, they give pleasure – that's all they do. Why is a Picasso worth €20m and my son's drawing is worth nothing?! Except to me, of course!
But Showjumping in particular is changing – at the top level the animals are worth so much and there's a lot of prize money in it?
Yes, the sport is certainly developing and the whole thing is becoming very prize money related for good or for bad. But it also means that a good horse can carry himself well and a good horse can win €500k – €1m a year.
How much would it cost to keep that sort of horse on the road?
€30-40k, but it depends how big the operation is. You see, if you have a high end asset, the worst thing you can do is cut the cost of its care. If you get physio every month and then decide you don't need it to save a few €, next thing the horse is a bit stiff and has the first fence down in the Nations Cup and that costs you way more than the cost of the physio! If you decide your blacksmith is too expensive and so decide to use the local guy from down the road. If you don't get your hay tested or you use cheap feed because someone gives you a sponsorship deal, or you don't get your horse seen by the vet quickly enough. I work closely with my vet, my physio and my farrier to make sure every horse is growing and developing well. Everyone should do that. If you start cutting back on the necessary care you're in trouble. It's like having a house and not maintaining it or a car and not servicing it – the wheels start to fall off eventually!
What do you think about the demise of the traditional Irish horse? Do you think it's something to be concerned about?
It's not really relevant in Showjumping as traditional Irish breeding for jumpers has largely gone in Ireland. The traditional Irish horse was great for the amateur of the day. 120, 130, maybe the odd bigger class. They were good horses, they have good rhythm, they stay on the one beat with a 12 ft stride. Back in the day Showjumping was a bit spookier and you needed a braver horse. Nowadays you need a different type of horse – the tracks are very technical and the classes are very quick, the gears you need on a horse now are incredible, even for the amateur classes.
You might see a nice careful 15.3 horse and would hear someone say that'll make a good junior horse, but it won't anymore. A top junior horse is 16.3hh – they'd win a national GP here hands down. So, the market has changed. The majority of Traditional Irish horses were nice 120, 130 horses and there's still a big market for that, but not at Palm Beach!
I think those interested in the Traditional Irish horse need to recreate the market for the them. You can't buy a better hunter than the Irish hunter! This big hunter show is a great development – there needs to be more classes like that and a circuit for them – horses can be sold out of those shows. It's actually very hard to find a good 16.3 Irish hunter that is quality and well produced. They're worth a good chunk of change! And if you start producing them well you'll start to get into the teens for them, which is where they should be. And up to the 20k for the better ones.
I think a Cross country league would be a great idea too, to carry those people that go hunting for another 2-3 months in the year. That would take the base of the Traditional Irish horse. In eventing, everyone wants a Traditional Irish horse of course, but you want to breed blood, blood, blood. To get to the Showjumping market for me you need to cross with some kind of continental breeding to get the scope again.
I've a lot of time and respect for people that want to preserve Traditional Irish Breeding, but they have to be able to do something – a draught horse should be able to jump a 110 track. Yes, connemaras, draughts, Traditional Irish horses – it's a passion. But those people have to create a market themselves, not wait for someone else to do it. There could be more draught shows here, or why not even sponsor a draught show in America and England? Then any Irish Draught's bought in Ireland in last 10 years can go enter and compete. But breeders can't just expect these horses to become part of the performance market because they're the wrong type.
Do you have any advice for breeders on how to choose the best stallion for their mare?
This is where the work comes in. I wouldn't listen to marketing stuff. You need to analyse your mare as much as possible – how much movement does she have? How much scope? Does she have a flick of the toe, can she change her leads? If not, why? Is she physically able? Too weak? Has a straight hind leg?
You have to really get in depth into it. Has she a good front on her? When you sit on her is she too narrow or too wide? Has she enough blood? Go down all these traits and only then start thinking about stallions. Look at her pedigree and see where her relations are. For example, say her 4 siblings were all hunters, you need to ask why? If they didn't have enough blood then you need to put her to a blood horse. Or maybe they all went eventing, but didn't have good enough technique in front? You need to try to find out what you have first and then you go looking for a stallion.
If you don't want to go for the very expensive stallions – the €2-3k stallion, maybe go for sons of them that would be half the price. There's so much choice now and it's so easy to access semen from abroad, but I wouldn't necessarily go high end. Go for a stallion that is 13, 14, 15 years old. Ask how many foals has it bred, how many went international, how many went eventing? You have to do your research.
How do you promote yourself in your business?
I turn up. Maybe I'm a bit behind the times in terms of social media – Facebook and Instagram and such like. But I think it's a very thin line. You see a lot of people putting up stupid stuff and giving opinions and you never know who you may be annoying! It's a bit of a science, it's not putting up any old rubbish.
Maybe I miss out a bit with staff as people want to see pictures of the yard, the horses and your life. But there's pros and cons of being in on it. And if I want to grow my business, I turn up and I'm connecting all the time. I never sit down and watch a whole class from the one seat. I'm always moving around and am talking to different people.
Have you any last pieces of advice for breeders in Ireland?
I think breeders need to form clusters. 4-5 local breeders need to get together and get a pro from outside the area in to analyse their horses. Trot them up, go through the papers and go together to shows to watch and learn.
In Europe breeders are very good at turning up to international shows. They'll get the start list, see a particular horse they like and go home and do the research – see what way it's bred and see the different lines and they start to see which crosses work. They do this naturally. We've a traditional focus here and go too much for the name of the day.
I also think more consideration needs to go into the of Thoroughbreds. Just because they're TB doesn't mean they're any good! He might be a bad mover, be bad in the wind or have the start of navicular. People need to go see them and ask the jockeys which ones jump, which ones have a good technique, are sound in the wind, easy to break, easy to ride… I would gather all that information and the best way to do that is in groups. Team work is the name of the game.
Share this article with fellow horse lovers by using the share buttons below.