Learning from a legend – Camilla trains with Chris Bartle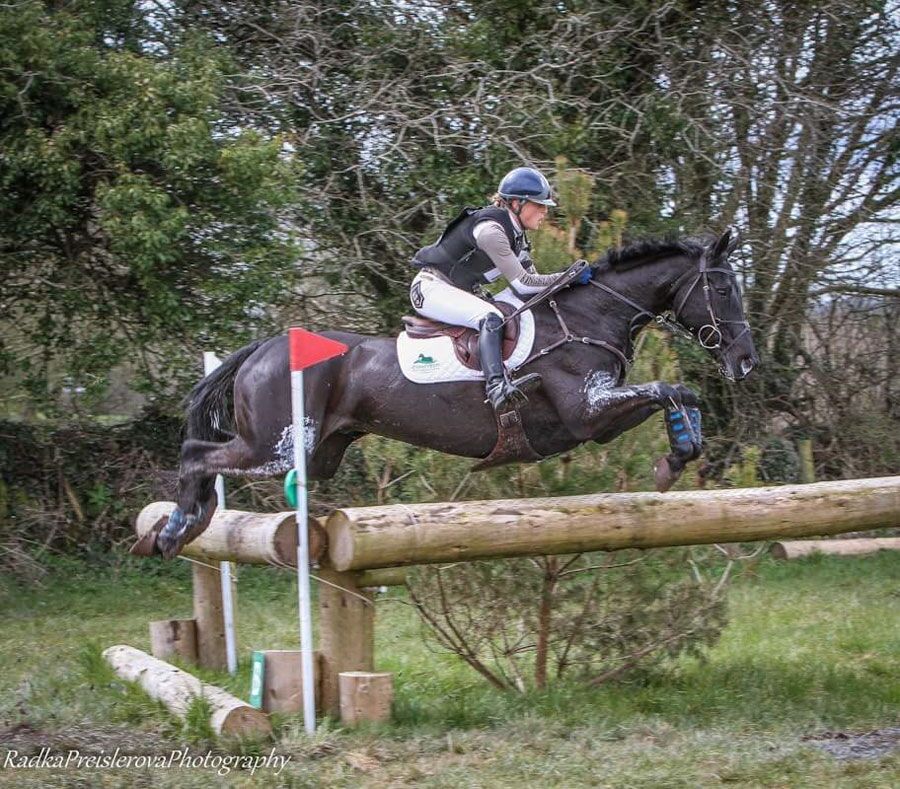 The Irish have long since been known for their brave, natural cross country riding. In recent years, however, the sport of eventing has changed quite dramatically. The standard of dressage has increased to be on a par with that found in pure dressage. Showjumping tracks are bigger and far more difficult. And the cross country phase has become increasingly technical, with tricky combinations and eye-wateringly narrow skinnies getting ever more narrow and ever more technical…
In the past four years the German eventing team have won almost every medal going, a feat credited to one man — super-coach and eventing master-mind Christopher Bartle. This elite German squad are now regarded as among the best cross country riders in the world and this is thanks in no small part to their immense focus on cross country riding technique.
Camilla Speirs – Irish Olympian and one of the country's leading event riders – recently travelled to Chris's training facility at the Yorkshire Riding Centre for a cross country boot camp. A firm believer that great training makes great riders, Camilla gives us some insights into what she learnt…
"I took 4 horses with me to Chris's yard in late February and had an absolute brilliant time. I was there from a Monday through to Thursday, which was enough to get in a lot of training, without over jumping any one horse. I took my Olympic partner Portersize Just a Jiff, BT Border Bandit who is at 3* level and two 6 year olds – BT Rock n Roller and BT Just a Rebel. Both these younger horses had a couple of novices under their belts, so they were ready to be introduced to more difficult skinnies and technical lines.
In total I had 2 lessons on each horse, but there was plenty of 'off-horse' training too. Video analysis forms a key part of Chris's training and I would highly recommend that every rider gets as much of their cross country riding recorded as possible. This will allow you to see and better understand your weaknesses and have a clear understanding of what needs to be improved.
We studied my 2015 Badminton round in detail, Chris dissected the whole round and we discussed where I could improve and why had that frustrating run out late on the course.
We also watched video footage of Michael Jung and Sandra Auffarth from the Europeans at Blair last year and I learnt a huge amount from this video analysis.
On my first day with Chris it was extremely cold and unfortunately the ground was frozen. This meant we were confined to the indoor, but we still got a huge amount done with showjumping and some indoor cross country training.
In the indoor there were fences everywhere and Chris's philosophy is just go and jump! There are lots of angles where you have to pick up fences with your eye quickly while turning fast to them. It was not a conventional showjumping track and was all about the speed of reaction which is a crucial thing for event riders to have and one that can be trained.
Something I found extremely helpful for my riding was Chris training me not to look at the fence you're about to jump! I know this sounds counterintuitive and it's an extremely hard skill to master, but the concept is simple. As riders we need to look at the line. And once we have identified the line and set up to ride it, you're focused on the next line or next fence rather than the fence you're about to jump. What this does is focus your eyes up and forwards­ whereas if you look at the obstacle you're about to jump, your eye goes to the bottom of the fence and you get there a bit too soon. If looking for the next fence you sit better, your body will be more upright and so if you run deep you're in much better balance.
Chris's training methods didn't really differ between the older horses and the young ones as the goal should be to train the system and the system always stays the same. Horses have to adapt to the system you want to ride in rather than riding each horse differently. Obviously some horses are stronger and so we, as riders, adapt to that, but the goal in our training should always be on working within the correct system for progressive training.
One area of weakness of mine that Chris identified is that I need to have my horses more submissive. I tend to let them run on too much after the fence and while the more experienced horses know their job and are more responsive, the younger horses are not quite as well trained on the flat yet and this can be where mistakes happen. Now that the youngsters are at 1* level they'll have a, b and c combinations so they'll have to come back and look for the next fence, whether it's there or not. In my training with Chris, if the horse landed and ran on after a fence, he would get me to bring them back to a halt, or back to a collected canter and then circle left and then right to get the control back. There's so little room for error in cross country riding nowadays that the horse has to be 100% listening to its rider. Anything less and the job gets so much harder.
Another interesting and really useful takeaway was Chris's thoughts on martingales. On my first day I had a martingale on and Chris asked why. It's not something I've ever given too much thought as I've always ridden everything in one – I was taught to ride XC with a neck strap and then the martingale surely adds extra control if and when it's needed? But by end of week I rode every horse without a martingale!
Chris's approach is to teach you to keep your hands low. When your hands are low the horse doesn't fight against your hand and there is no need for a martingale. One of my stronger horses really was much more comfortable without a martingale. While he used to run at the fences and panic a bit, without the martingale, even though his head was still high, he was not running and fighting against the martingale. Chris also argues that a martingale can cause them to stumble on big drops as it pulls the head down and prevents the horse from finding its own balance.
Chris also taught me a new way to hold the reins for cross country riding. He teaches riders to ride with a bridge in the reins so you always have 2 reins in the outside hand. It's difficult to get the coordination at first, but the result is that it is so much easier to slip the reins to give the horse his neck.
Where this comes in really useful is when a horse has to reach for the back of a wide fence (see top picture above). Riders tend to throw the body forward to go with the horse instead of lengthening the reins, but with the reins bridged in this manner it's easier to lengthen the reins more and keep body back. You have the same contact from mouth to hand, but are sitting back with a longer rein, are not pitched forwards onto your knees and so your position much more secure.
As riders, our cross country training focus tends to be on our horses – making sure they're confident jumping into water, are brave at ditches and know to stay on a line over a skinny. But to succeed in the demanding sport of eventing today, a rider must train diligently to become a safe, effective and (eventually) a brilliant cross country rider.
Chris focuses so much on the rider and the system. A correct position is at the heart of this and every rider should master the five cross country riding positions: racing position for travelling on the flat, the preparation position, the jumping position, the landing position and the 5th is the 'oh shit' position! He talks about all of them and trains the German riders to be perfect to the point of almost looking robotic, because every movement of the horse requires a certain pre-trained position and response from the rider. In Ireland and England, we grow up hunting and so have a natural, intuitive response. But with the level of technicality of cross country courses today, the German system trains riders so that perfection comes naturally and this has made them into some of the best cross country riders in the world.
I learnt so much in the four days that I'm hoping to go over to train with Chris again very soon. Horse's pick up so much on body language that you can get them to a certain level by giving them confidence and relying on their bravery and jump. But at 3 and 4 star there's no forgiveness – you have to be so in tune, with good balance and good rhythm and that has to be trained to perfection.
If I were to give aspiring event riders any additional tips from what I learnt from these sessions, is that you should work every day on the feedback that your coach has given you. Every time you go for a cross country lesson, take the feedback from that lesson and then apply it in your riding, whether your hacking or galloping, so it's in your mind every day. Rome wasn't built in a day, but small incremental improvements add up to make for great cross country riding."
---
Camilla is available to coach and train riders of all levels and across all the eventing disciplines – dressage, showjumping and cross-country. She has a wonderful teaching style and brings flair and fun to everything she does. If you would like to contact Camilla for training you can email her or call her on 087 7597579
---