Sarcoids in horses – case report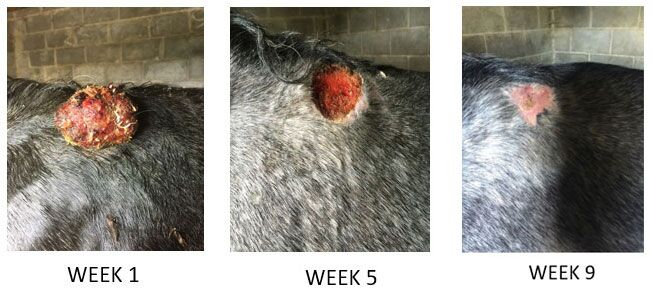 A 3 year old sporthorse filly was presented at Greenmount Veterinary Clinic.
She had developed 6 sarcoids within 3 months of developing the first sarcoid. The mare had become dull and due to the location of the sarcoids could not be broken in. The owner was very distressed at the severity of the lesion particularly on the withers and the decline in the filly's demeanour. The sarcoid on the withers had been surgical removed twice and had grown back more aggressively.
I sent pictures of the above lesions to Professor Knottenbelt, at the time he was working with the University of Liverpool. He specialises in topical anti-mitotic AW4-LUDES cream. A strict protocol of different strength creams and different interval periods for application was sent out specifically for this filly.
Treatment extended over a 2 week period and the filly was given low level anti-inflammatories throughout. The filly was very accepting of the treatment and there were no adverse effects.
The filly was sent home with strict instructions to keep her as fly free as possible (fly rugs, stabled at dawn and dusk etc) and she was revisited every 2 weeks to monitor progression of the lesions (but no further treatment). Today the filly is broken and in full work, she is thriving and has even grown in size, the owner is very happy with the results. Below is a picture sequence of the firbroblastic sarcoid on the withers.
---
Please note that our veterinary articles are written to give you insights and understanding of common equine veterinary problems and are not intended to take the place of a veterinary examination by your own vet. If in doubt, always call your own vet should your horse require attention.
Nikki Walshe MVB is a resident vet at Greenmount Equine Hospital, Limerick
Share this article with fellow horse lovers by using the share buttons below.